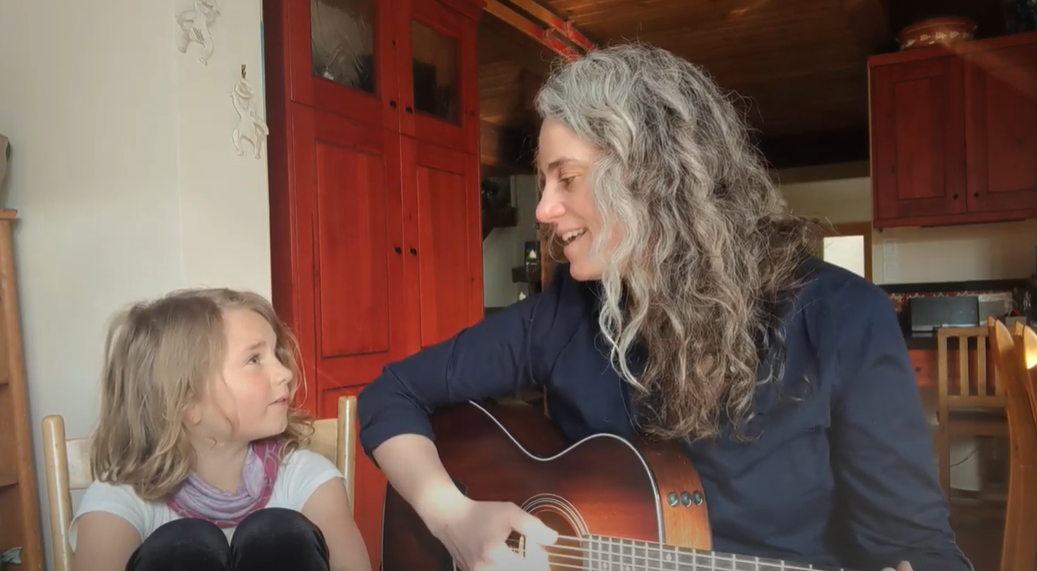 At the time of writing this story, in March 2021, Alberta Health Services announces:
"Performance activities such as playing music are permitted… if they are part of worship practices."
So what is a musician to do?
"I might join a church so I can perform again", jokes Ellen Braun.
She's a courageous woman. A couple of years ago, she decided to give up her day job and make a living solely from song-writing, composing, and performing. This, with the addition of teaching song-writing lessons at artsPlace, was to be her full-time career.
"Some people told me I was crazy…" she says, the dark light of her eyes turning vulnerable for a moment.
She did it anyway.
And she was good at making music: her translucent voice, thoughtful lyrics, and delicate sound invited the listener into an intimate musical conversation.
This artistic journey wasn't always sunshine and rainbows. In one difficult moment, to help her along the bumpy road of re-inventing herself as a performer, she wrote a lullaby with a soothing rhythm and a reassuring message "You're gonna be okay."
It worked. Her career was blooming.
Ellen attended prestigious residencies in 2018 and 2019 at the Banff Centre and in the latter year was invited to join a cohort of talented musicians at Canada's Music Incubator Artist Entrepreneur program. She recorded music for film. She met other incredible artists who believed in her music: Joe Shea joined her in the two-piece indie-folk band Trundled, and the multi award-winning producer Daniel Ledwell recorded and produced the hauntingly beautiful "High Water", their first full-length album.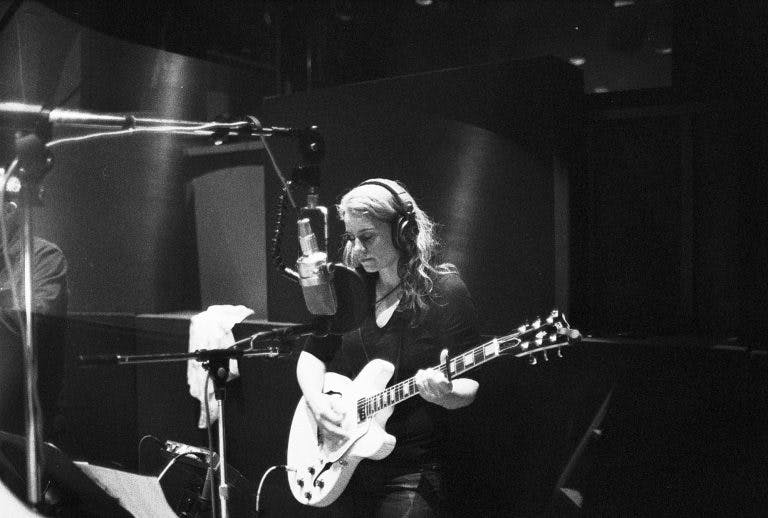 After "High Water" Ellen feels, she finally found her voice.
Then COVID hit, and bad news came one after another: her tours were cancelled, the festivals that had booked her were closed, the music lessons were postponed indefinitely.
Ellen stayed strong under the onslaught and did everything she could to support herself, her family, her community.
She kept her three young children at home when schools closed.
When everybody was reeling from the quarantine, she fought against the isolation. Trying to connect people through music, she partnered with artsPlace and Mountain FM and gifted the "You're gonna be okay" song to the Bow Valley. The lyrics and melody were published online and while she was playing the song live on the radio, Bow Valley friends, neighbours and community members were invited to sing-along in their homes, from their balconies and porches. Some of the proceeds were donated to charities and Ellen was recognized as one of the Mayor's Community Champions for the initiative.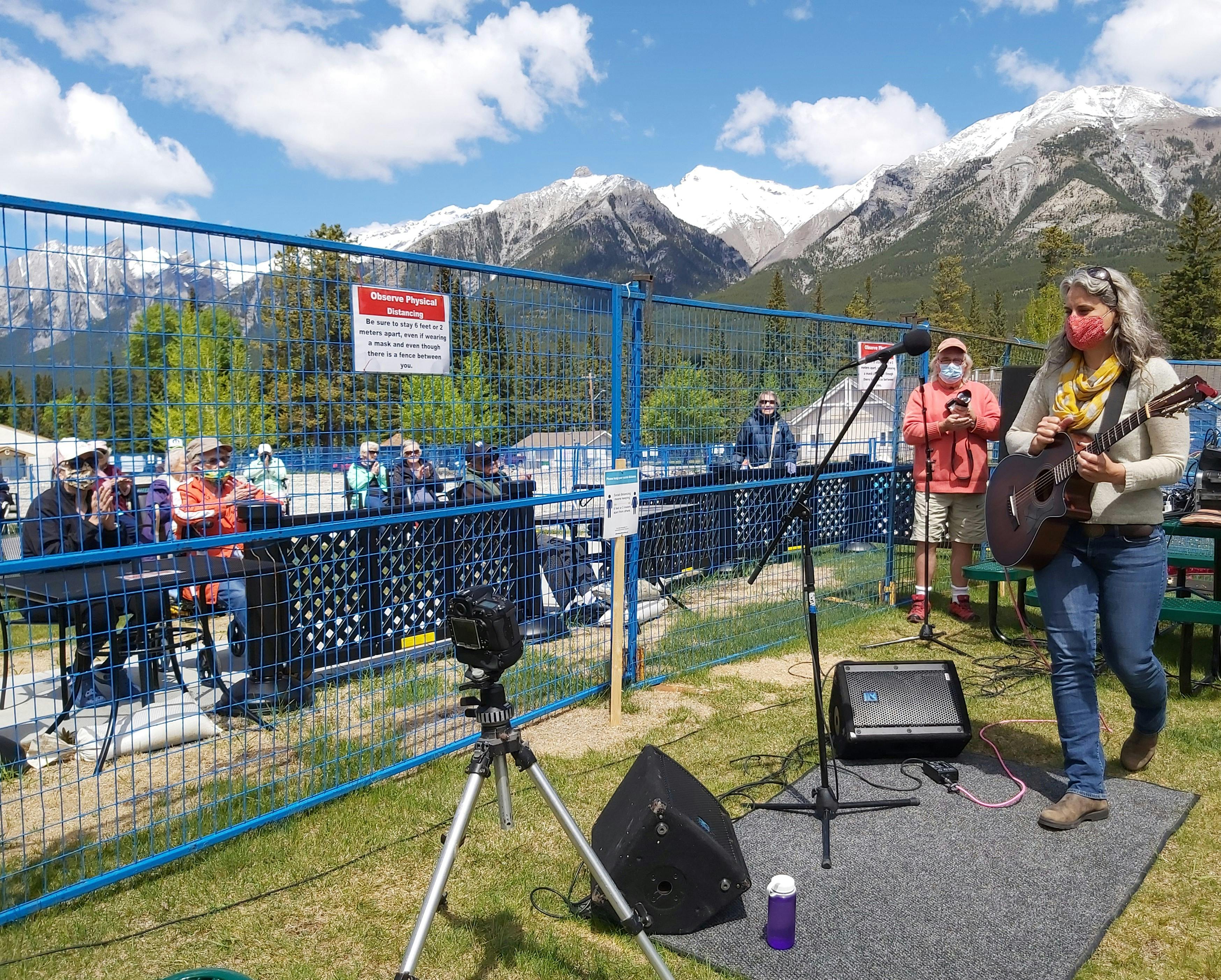 Later that spring, invited by artsPlace, Ellen performed in front of the Bow River Senior Citizens Lodge. Even with a fence separating her from the audience, she provided precious moments of joy for some of the most at-risk members of our community.
Ellen and her bandmate John Shea joined artsPlace once again in bringing music to the Bow Valley when they recorded a virtual concert, sending encouraging words to their audience: "Keep sharing and keep singing! We know that you are going to deal with whatever comes your way." The concert was one of more than 40 free performances recorded at artsPlace and released online last year.
In the fall, Ellen was back at it and invited six other artists to perform in a live-streamed music cabaret as part of artsPlace's Festival of Art and Creativity, which engaged more than 3,000 people in a variety of free programming.
Despite these community initiatives, Ellen's resources were drying up, and with the end of the pandemic nowhere in sight, she felt she was at the end of her rope: "I was sad, but not the good kind of sad that we songwriters can harness into song."
She stopped writing.
Broken, she grieved that piece of her soul that couldn't make music anymore. She was in survival mode now. She focused on finding work to support herself and her family. At a time when jobs and businesses in the Bow Valley vanished overnight, it wasn't an easy task.
Between looking after her children and submitting resumes, she started walking along the river every day. It was her moment to take a deep breath, to try to find her balance, to remember who she was, to find a way out. It was her form of praying.
She eventually got a job. She was lucky, she said, in a time when so many weren't. While the storm is not over, she's riding it out.
One day she started writing again. Ironically, it was a small incident which threw her back into it: a person in the street shouting out a frustrated comment at her. She wanted to be angry, to write an angry song.
Instead, she wrote:
"If you could try a little harder
not to kick me when I'm down,
If we could be a little kinder
there's so much more to go around"
The message is direct and simple: "be a little kinder" today and always, pandemic or not. Fitting for Ellen at this time in her life; fitting for everyone - because who among us has never had a day when they wished the world would be a little kinder?
The words are softly sung by someone hurting enough to be angry, and strong enough to choose kindness instead.
Leaving last year's ordeal behind, Ellen declares "I'm a songwriter! I had forgotten that before, and I can't let that happen again."
I hope Ellen keeps writing. The world is more beautiful with her music in it.
Story written by Maria Gregorish, March 2021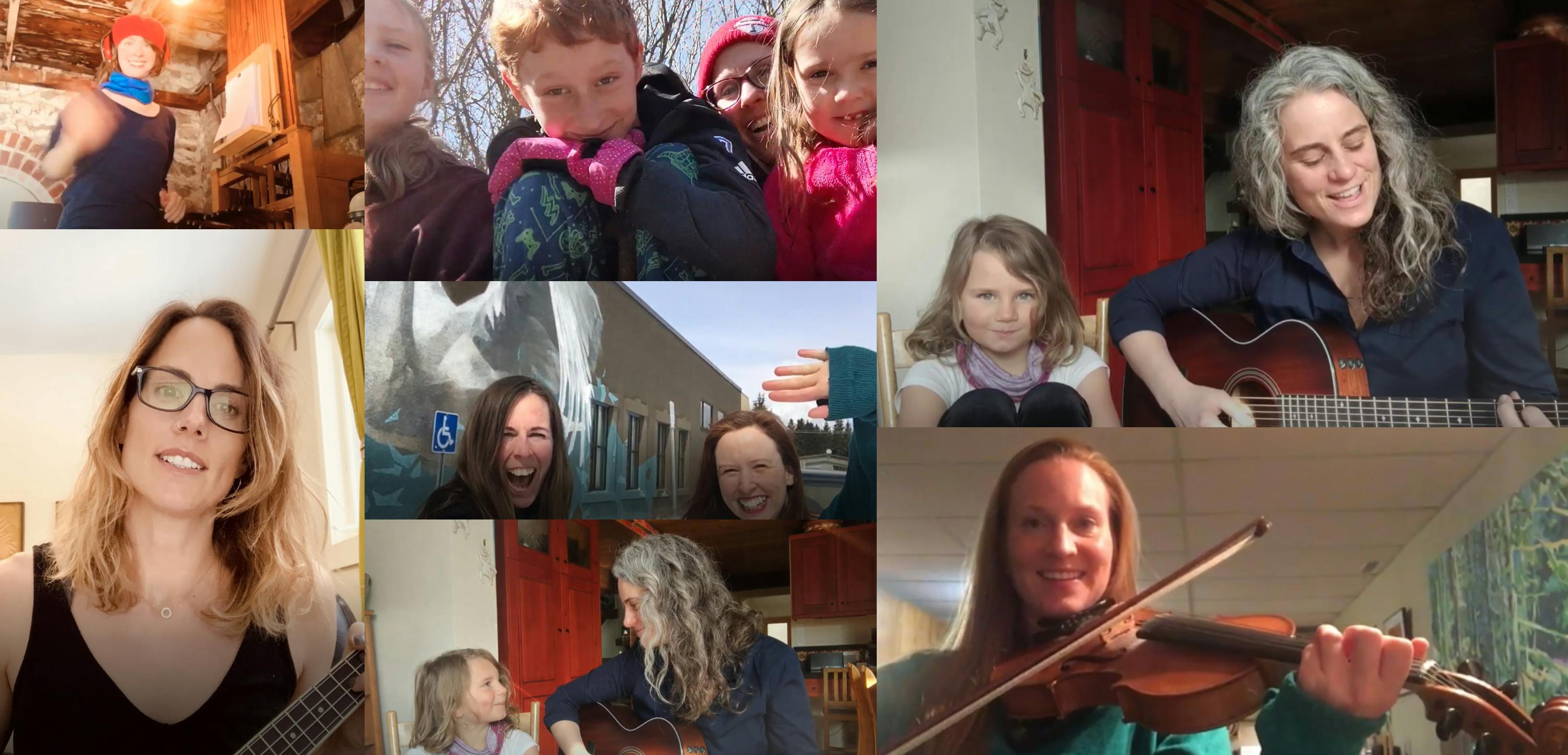 Over 7,100 people participated in the 2020 "Okay" sing-along led by Ellen Braun.
"I was very impacted by Ellen and Maeve's video of the song "Okay". I played it for both my daughters (6&3) who were really struggling at the time with not being able to see their grandparents and friends, and the song just mesmerized them. My eldest turned to me afterwards and said with great enthusiasm 'mom, we are really going to be ok!' I myself listened to the song many times thereafter and each time it allowed me to express pent up emotions and lifted my spirits. It has become the song of the pandemic for me." – Laura Wellmann.
"I watched the video 6 times in a row. It felt like I was getting a big hug when I really needed it" – anonymous
On April 1st 2021, the 1-year anniversary of the initial sing-along, Ellen Braun asked her neighbours to join her in singing together once more. The Bow Valley community was reunited in sending the optimistic message "You're gonna be okay".
Watch Ellen's original "Okay" video from 2020 here! https://youtu.be/wK9WS4-rvgE
Watch the Okay Community sing-a-long 2020 here! https://youtu.be/tN3B6k5r1Mc
Watch the Okay Community sing-a-long 2021 here! https://youtu.be/2a3At9yhc4w
Lyrics:
Okay you're gonna be okay
You're gonna be okay
Hush my darling, gonna be okay
You're gonna be okay

Close your eyes, let the rainbows in
You're gonna be okay
Colours tell you everything
You're gonna be okay

Love yourself in the skin you're in
You're gonna be okay
To lose is just to almost win
You're gonna be okay

Curl your fear up into a ball
You're gonna be okay
Let it from your fingers fall
You're gonna be okay

There's a tear in your eye and a song in your heart
You're gonna be okay
Stop the one, let the other start
You're gonna be okay

Okay you're going to be okay
You're gonna be okay
Hush my darling, going to be okay
You're gonna be okay