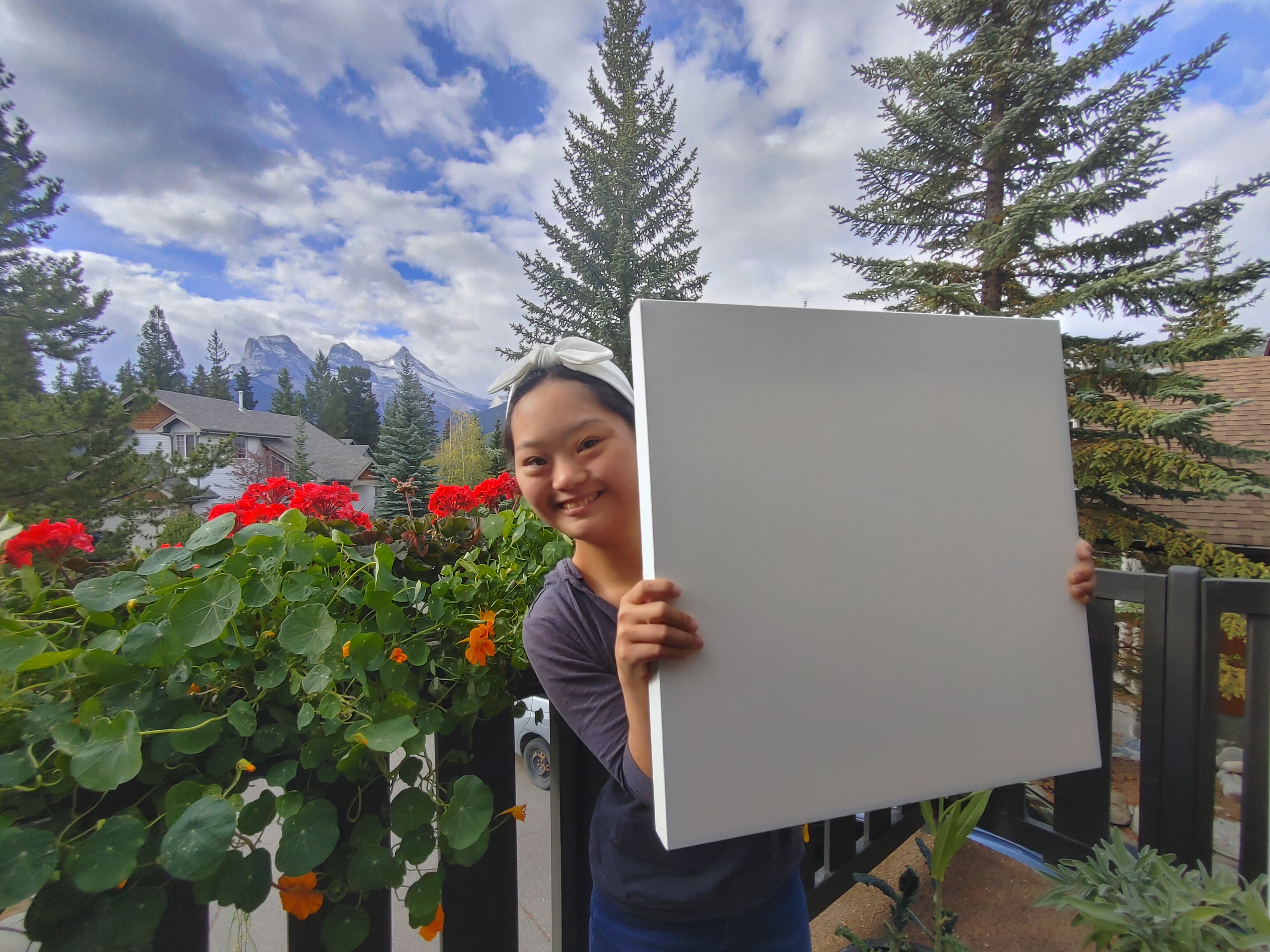 Artist Biography
Meg Ohsada is a 27 year old Special Olympics figure skater and artist from Canmore Alberta, who pours passion and feelings into her art to stir up inspiration in all who see it. Meg is passionate in advocating for an inclusive culture and helping others see that the world can be a better place when we share love, beauty, encouragement and kindness to those around us. Meg started dipping her hand into the art world at a young age being surrounded by the beauty of the mountains and her love for performance art. Meg discovered she loved to dance and skate which has allowed her to express herself artistically through movement. Meg's artistic expression through sport has resulted in her bringing her art to the world stage in a variety of countries including Austria, United States, South Korea and in 2023 Russia.
In 2015 she joined the National access Art Centre, with guidance and inspiration of the facilitators and other artists at NaAC, Meg discovered who she was more as an artist. Meg has tried her hand at a variety of art outlets such as ceramics, textiles, drawing along with a variety of painting forms. Meg is eager to learn from others and takes part in a variety of workshops such as mask making, tile painting, green screen work and many more.
As time has went on Meg has discovered she loves to paint on canvas the most. Meg expresses herself by painting her view of the world through her nature and abstract pieces. Meg pours deep emotion and feelings into her artwork in hopes to stir up and help the audience discover their own feelings about the world around them.
Meg has taken part in a variety of shows in her art career. Meg's art can be seen blessing the the walls of Launchpad, Dialog Design, Calgary, Canada, 2018, Art from the Unknown, McDougall Centre, Calgary, Canada, 2018,Albertan Perspectives, Alberta Hong Kong Office, Hong Kong, China, 2018,Fantasy Spaces, HUB Gallery ArtsPlace, Canmore, Canada, 2019,
This House is On Fire, Vertigo Theatre, Calgary, Canada, 2020,Don't Dis My Disability, Dickens Pub, Calgary, Canada, 2020, and Limitless Realities, ATB Stephen Ave Gallery, Calgary, Canada, 2021
Meg's biggest hope is to encourage others to reach for the stars. Meg's life motto is always dream and never give up.