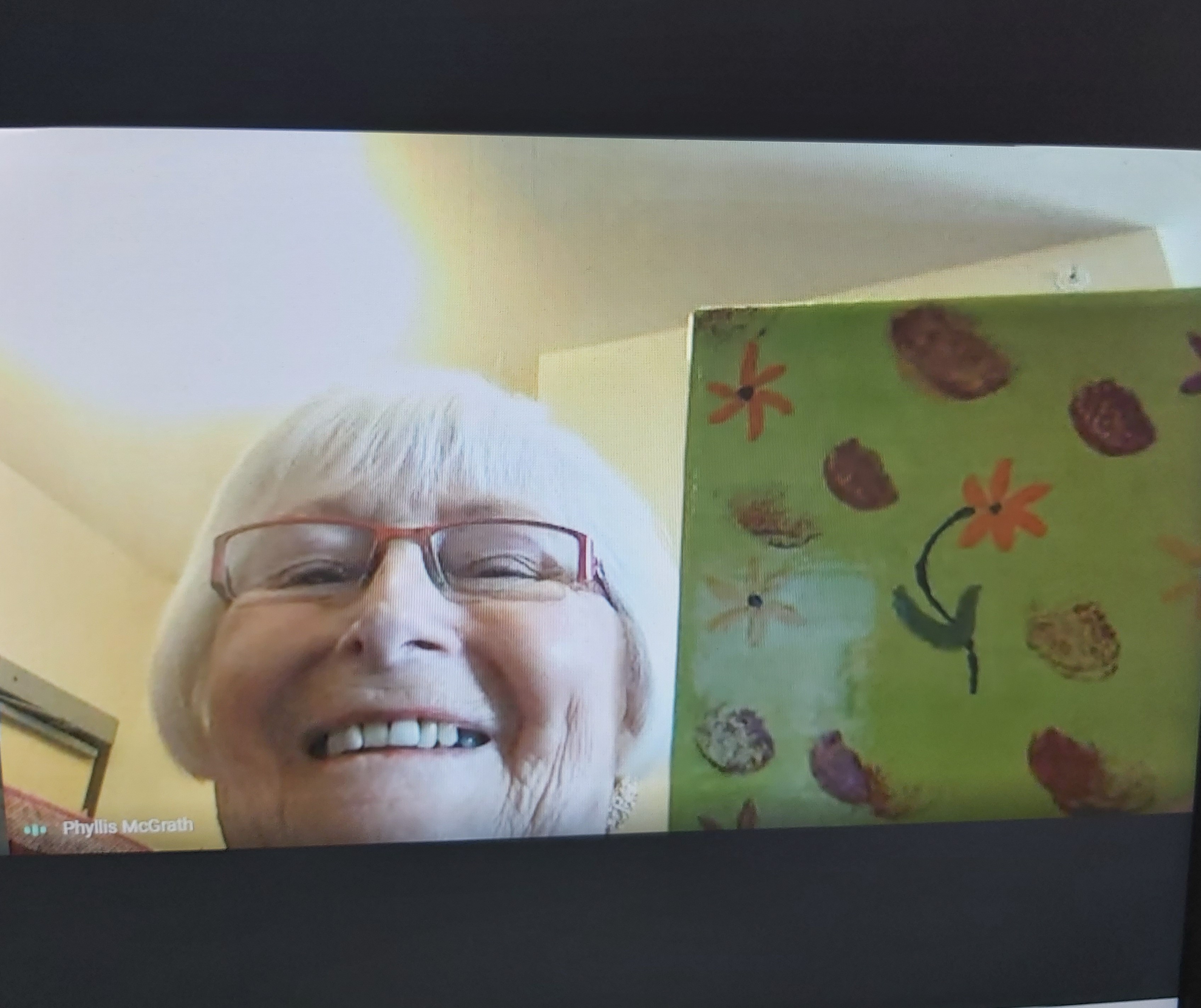 "artsPlace made a lot of people happy here at the Seniors Lodge" smiles Phyllis McGrath on my computer screen, in her stylish red framed glasses and golden earrings, silver hair cut short.
She holds up a tile covered with flowers.
"I painted this on Crafts Day, which is every Tuesday at 1 pm. Lately we do a lot of painting, because we have all these brushes and paints gifted by artsPlace. But we do just about anything, every week is something different. We laugh a lot on Craft Days because not many of us are very talented." She giggles, contagiously.
I am having online tea with Phyllis to get to know this bright-eyed smiling lady who is a part of Canmore #1. When she tells me that, I raise my eyebrows in confusion. I probably make a funny face because she laughs some more:
"My daughter Alison puts it that way ", she explains. "That means the mining town, before the '88 Olympics; the place where I was born and raised, and met my husband. I think I still prefer Canmore #1."
I invite her to share some of her favourite memories. Phyllis recalls, amused, how as a high school girl she used to skip over to the Miner's Hall every Friday evening because there were dances, "no alcohol, just music". All the girls would be bunched together in one part of the room, and all the boys on the other side, and when the music would start, the boys would stampede across the hall to invite the girl they liked to dance.
A little later the young Austin arrived by train, jumping off in Canmore to get a job as a miner. Here he met Phyllis, and Phyllis met him, and they got married, raised three children together, and grabbed an occasional drink with friends at the Legion, "back when the beer was 10 cents." They had such a simple, not at all extraordinary, wonderful life, he would sometimes exclaim to her "Isn't it wonderful that we met?"
It is one of the most beautiful declarations of love I had ever heard. My heart skips a beat.
Phyllis lost Austin a couple of years ago, just 9 months after they had moved together to the Bow River Senior Citizens Lodge. "I think he knew he was going to go, and he wanted to make sure that I'd be taken care of".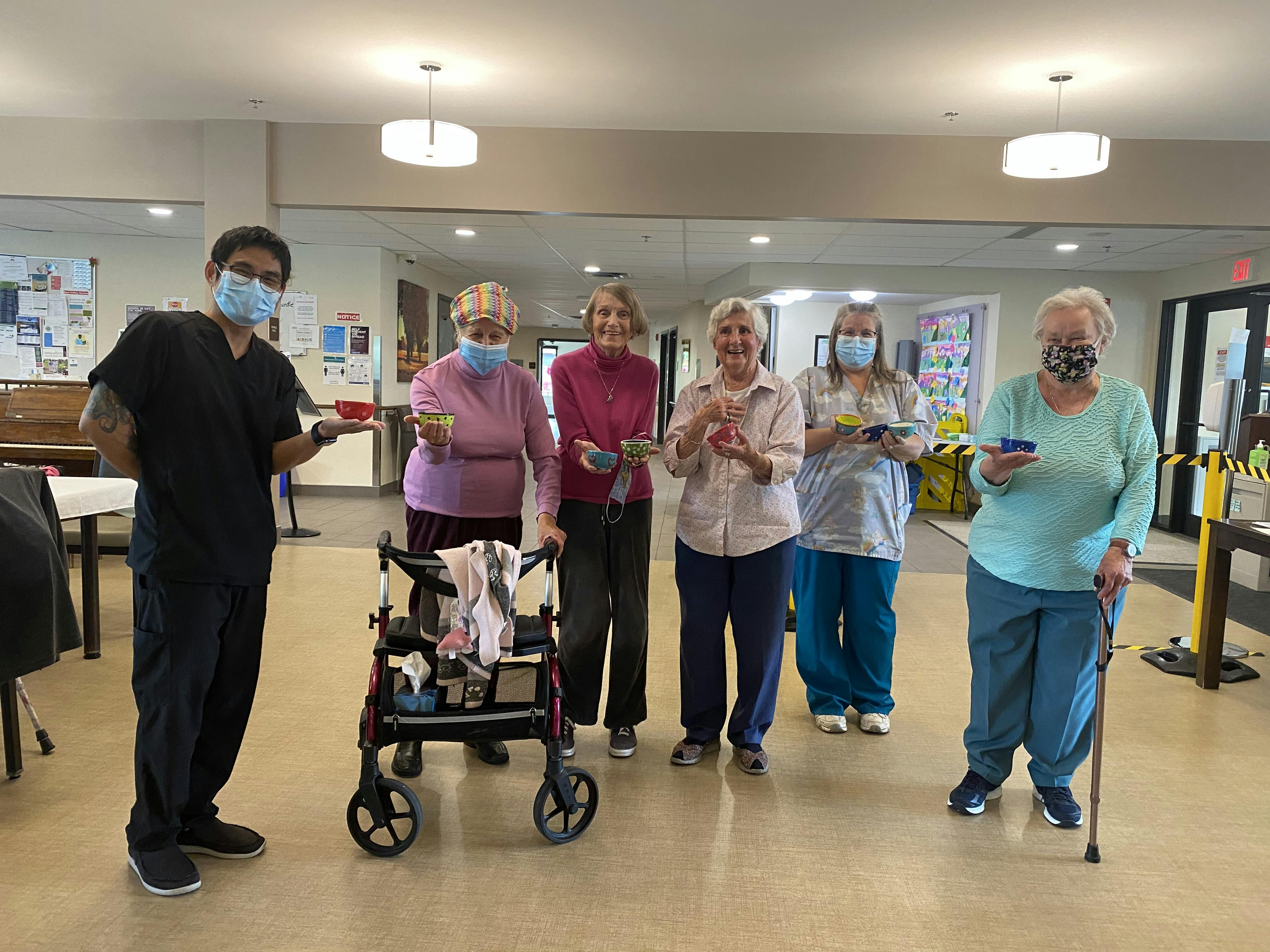 She quickly brings the conversation to the present. "I really enjoyed all the gifts from artsPlace. I got this lovely pair of earrings! They match a necklace I have, it's like they are a set. I like dressing up, you know, even if lately there are not many opportunities to get fancy. "
"And I received a beautiful piece of pottery, which I sent to my daughter in Calgary. She put a plant in it and sent me the pictures and I was delighted to look at them."
"…and the outdoor concerts from last year! I remember the one with Mike Petroff, because he and my husband used to be quite good friends, golfing together…"
I listen to Phyllis, so gracious and grateful for what each day offers her, happy for her grandsons, and the earrings from artsPlace, for the lovely memories of her husband, and the plants that grow now in little gifted pots.
Her happiness is infectious from across the computer screen, and I smile, realizing how wonderful it is to have met Miss Phyllis.
Story written by Maria Gregorish, March 2021