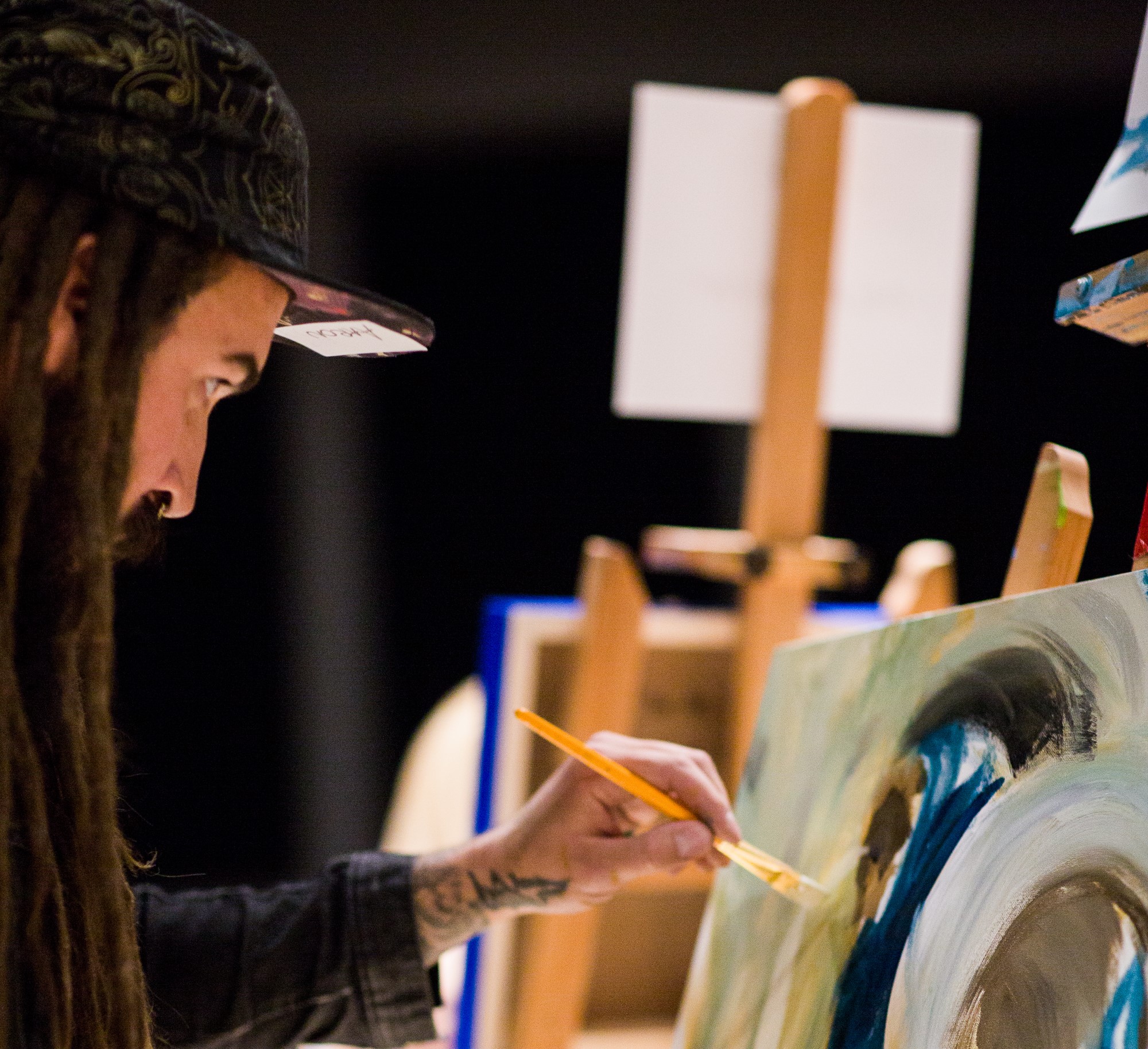 Creative Combat Artist Call!
Creative Combat 8.0
Saturday November 19, 2022
12 ARTISTS, 20 MINUTES, AND A DRIVE TO CREATE
FAQ - Creative Combat Artist Call
What does Creative Combat look like?
· Doors open at 6pm to a fun party vibe, with a DJ, emcees, food and drinks. The audience mixes and mingles as the first set of 6 artists take their places at their easels.
· There are three "rounds", with each round being 20 minutes long:
- Round #1: 6 artists are introduced with a personalized video introduction, then the painting begins, and the audience cheers them on!
- Round #2: Same process with 6 new artists.
- Round #3 features the top 3 semi-finalists from the first two rounds (selected by audience votes).
· After the final round, the audience votes for their favourite painting, and the winner is announced. ALL artists are recognized and thanked for being great sports and helping to support artsPlace!
· In the words of a veteran artist, "Remember that it's just all for fun. It's not about competing with other people, it's about creating fun."
· Check out this article about last year's Creative Combat.
When is Creative Combat 8.0?
The evening of Saturday, November 19th, 2022.
How many artists will be part of the event?
12 artists will be selected to participate.
Is there an age limit?
Anyone aged 18+ years old is welcome!
What are we doing differently this year?
As with the past seven years of Creative Combat, we still need 12 talented painters who can speed-paint a complete work in 20 minutes. But this year we are making the process open to a public call. artsPlace is an inclusive organization, a safe and equitable space for honouring the diversity of people living and working in the Bow Valley. In the same way, Creative Combat 8.0 welcomes submissions by artists of all classes, genders, cultures, ages and abilities.
What's in it for me?
· It's a lot of fun, PLUS your involvement in this fundraiser will support the year-round work of artsPlace.
· Creative Combat is in its eighth year and is a big event in the Bow Valley so it's a great way to get exposure to an enthusiastic audience.
· We will make a showcase video of each participating artist and share it across artsPlace channels until the next year's event.
· New artists have a chance to be mentored by established local artists who have participated in years past.
· All participating artists will have the opportunity to showcase an original art piece for sale in the silent auction, from which they'll receive 45% of the sale. Check out last year's auction site here.
· For more information, visit an example of a past participant in Creative Combat by going to Barb Fyvie's profile.
How do I know if I'm ready to take part in Creative Combat?
Can you make a painting in 20 minutes? Set a timer and give it a go! We recommend you try it at least a few times, from start to finish. You'll be asked to include one of these pieces as a part of your online submission.
How do I prepare for the event?
Practicing at home with a timer is a great idea. If you need access to studio space and supplies (paints and canvases), call Becky and she will find a time for you to experiment at artsPlace.
Will all supplies be provided for the event?
Yes, you will be provided with an easel, canvas and painting supplies including acrylic paints.
Do I really have to finish the painting in only 20 minutes?
Yes! This is a fun, fast-paced evening of painting - that's what makes it so exciting!
Will the audience be live?
Yes, and they will be cheering you on as you create! All artists (6 at a time) will be painting in front of a live audience at artsPlace as well as an audience joining online from the comfort of their couches at home.
What if I'm uncomfortable painting in front of an audience?
If this is your first year as a participating artist, artsPlace will pair you with a mentor artist who has participated in past Creative Combat events. These seasoned competitors will help you get as prepared as possible for the event.
Are the artists paid?
Participating artists will each receive a $200 honorarium plus a percentage (45%) of the sale of their piece from the silent auction. Visit the silent auction here.
Is there a prize for the winner?
The winning artist will be awarded a $500 prize.
What happens to the artists' paintings after the event?
All paintings created by Creative Combat artists will be auctioned off, following the event, as part of the Silent Auction fundraiser for artsPlace. As a participating artist, this would be part of your contribution to the fundraising efforts.
What are the health and safety protocols for this event?
artsPlace follows all provincial health protocols (although we sure hope we won't still have to worry about pandemic restrictions by November).
Where does all the money go that is raised at Creative Combat?
All proceeds from the event and the silent auction go towards artsPlace programming and workshops.
How do I apply?
Click the following link to submit 5 images of your work (including one image of a painting you did in 20 minutes) along with contact information, and a short paragraph to tell us why you are interested in participating: https://www.tfaforms.com/4977665
When is the deadline to apply?
5pm MDT on May 26th, 2022.
How will the participants be chosen?
An independent jury of three artists will review all entries. The decision will be based primarily on an evaluation of the images of artwork submitted, and an assurance that the artist can create a painting in 20 minutes (or is willing/able to learn). They will also review the written submissions. Their review will be "blind", meaning they will not see the names of the artists who have applied. All efforts will be made to choose a diverse group of artists.
When will I hear back about whether or not I have been selected?
You will hear back from us by the end of June whether or not you are accepted to participate in CC8.0.
If I am not ready to be part of Creative Combat, are there any other opportunities to get involved and to support artsPlace in general?
artsPlace genuinely appreciates your interest in helping out and yes, there are many ways you can do so! Please contact Becky at artsPlace, and she will get you involved in a way that makes the most sense for you. Phone: 403-609-2623, ext.105, or email: [email protected]
If I have other questions, can I speak to someone about the event?
Absolutely! Please feel welcome to contact Becky Lipton Fournier at artsPlace: 403-609-2623 or [email protected]
Are you a visual artist living the Bow Valley? Would you be interested to participate in a fun and friendly competition that raises money to support the arts in the community?
Benefits include:
Connecting with other artists,
Showcasing your artwork in the community,
Option to receive mentorship from an established artist
Access to acrylic paints, materials and space to practice for the event
An honorarium of $200
Honing your speed painting skills.
Newer and emerging artists are welcomed, and we can offer support for artists facing challenges to participate or that have special needs. We would love to meet you. Please reach out!
There are only 12 spots and not all artists who contact us will be selected. All artists will be notified by end of June at the latest. Please spread the word to any other Bow Valley visual artist you know that might be interested.
For more information call Becky Lipton Fournier, Fund Development Manager, at 403-609-2623 or email [email protected] by May 26, 2022.
Interested in participating. Click here