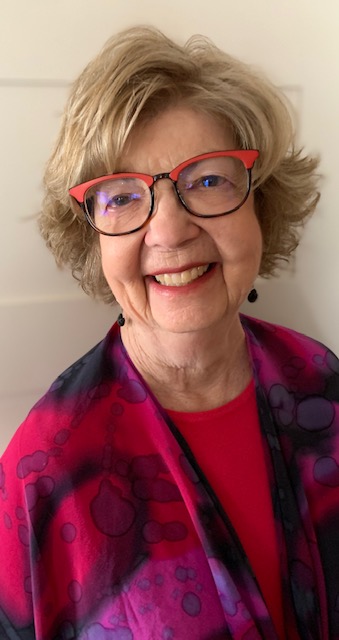 Sandy is passionate about artsPlace and enthusiastic about her involvement in the Canadian Mountain Arts Foundation. She has been an active volunteer and participant in workshops and courses since artsPlace opened its doors, at the same time she and her husband retired to Canmore from Manitoba. She joined the CMAF Board in 2020 and has served on several committees, including chairing Creative Combat 7.0 in 2021.
Sandy has a strong commitment to lifelong learning, having coordinated adult continuing education programs and developed a community based family education centre. She has served on numerous non profit boards and committees and volunteered in a variety of community services. In 2021, Sandy was named a recipient of the Nellie McLung 150 Women Trailblazers Award, saluting the contributions 150 Manitoba women have made to social justice, arts, sports, politics, community activities and democracy. She received the reward for the impact she made within the education system as well as for implementing innovative community education programs.
Sandy's professional career spanned 40 years within the education system as an advocate for inclusive practices for children and youth: Speech/Language clinician, Assistant Superintendent and Director of Student Services (Winnipeg School Division), University of Manitoba instructor (Faculty of Education), program and staff developer, guest lecturer and program consultant (locally, nationally and internationally). She has a Master's degree in Education (Pennsylvania State) and has published journal articles related to her field, written educational materials for parents and teachers and is a contributing author of two books. She received several awards for her work in championing inclusive schools and creating safe school communities.
Now, truly retired, she is pursuing her love of writing and the magic of stories by creating and performing flash fiction and hones her skills by attending courses at artsPlace. She looks forward to working with the community to implement the newly developed strategic plan to ensure artsPlace achieves its vision, whereby... "all residents can participate in the arts and appreciate creativity."
Meet the rest of Our Team.