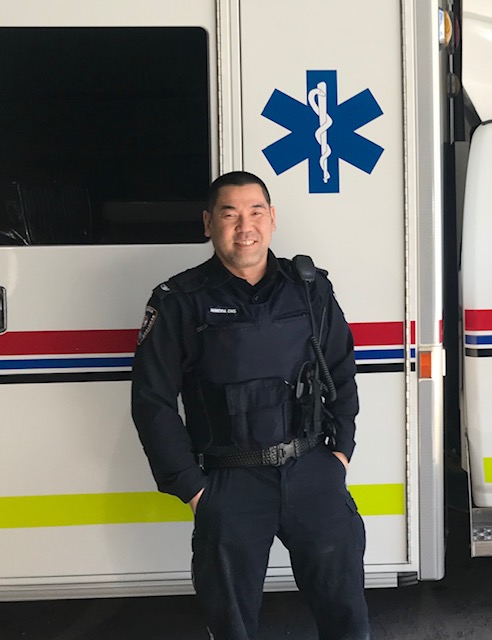 Earl Takahashi is a master of fitting pieces into place. As a full-time paramedic in Stoney Nakoda, a casual firefighter in Canmore, a stained glass instructor at artsPlace, and a husband to Becky and dad to their four-year-old son Ellis, he knows how to solder together a schedule. Not to mention the skiing, climbing, and fly-fishing.
"I'm a typical Bow Valley person with a couple of jobs that evolved from each other and for me, while they are tactile, they are different from using the creative side of your brain," Earl says of comparing being a first-responder with being an artist. "There's an itch to create, to design something, and to exercise that side of my brain."
The youngest of four siblings, Earl says he's used to going at the speed of life and doesn't mind scribbling another commitment into the day planner. A former climbing instructor, wildland rappel crew member, and outside equipment sales rep, Earl prefers working with his hands whenever possible, which is how stained glass caught his eye two decades ago.
Living in Edmonton at the time, his workplace would facilitate workshops taught by colleagues and during one session he learned how to mosaic. Once Earl developed those skills, an art instructor friend introduced him to stained glass and from there it was a natural transition. Describing his self-taught stained glass technique, Earl says he's more literal than abstract and likes to draw inspiration from shapes found in nature. And while he says you'd be hard-pressed to know he makes stained glass just by walking through his house (a workshop space other than the dining room is coming soon), he's made countless pieces as wedding gifts, birthday presents, and the odd commission - one is even in Italy.
Lately though, Earl's biggest exposure to his craft is through teaching it to others at artsPlace, which he has been doing since the centre opened in 2015. His classes are popular and he finds satisfaction in helping others learn a new skill, as he says most of the participants have a curiosity about stained glass, but don't have any experience in the medium.
This is one of the reasons he appreciates artsPlace, it's a one-stop shop for being exposed to everything from acrylics to wood carving. "After artsPlace came into the community I thought, 'how did we not have something like this before?' It has a very welcoming feel to it and it fills the creative niche in the community. It's where you go to seek creative outlets and to exercise the creative side of your brain."