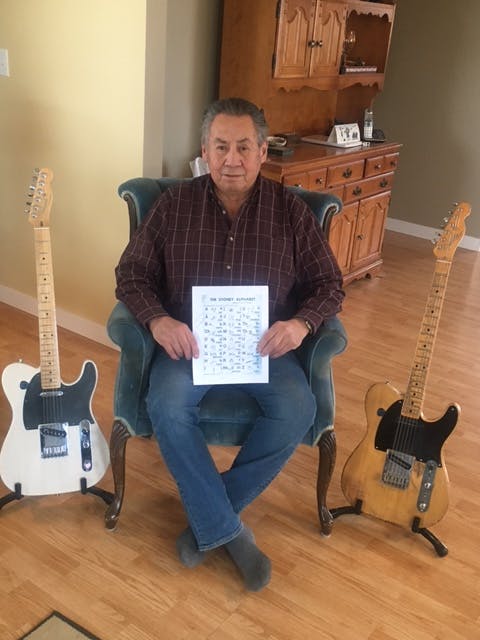 "In my class we say, 'wazin ĩeichninabi', which means 'I'm one with you'. I'll eat, I'll laugh, I'll cry with you. That's what I want to put out there in my class. And it's working. This is about reconciliation. I'm happy this kind of work is happening." - Buddy Wesley
It is with an incredibly heavy heart that we share the sad news that Tribal Historian and beloved community member, Buddy Wesley passed away on Friday, June 25.
Buddy taught Stoney Language and Culture classes at artsPlace and the Whyte Museum of the Canadian Rockies as well as several other cultural centres. He was adored by his students. Buddy was very passionate about teaching everyone the phrase, 'wazin ĩeichninabi.' He considered himself a 'bridge-builder', helping people from diverse cultures to respect, understand, and love the Stoney Culture. We hope to continue his legacy.
Lloyd Buddy Wesley is a Chiniki band member and Stoney Nakoda Cultural Advisor and Tribal historian in Morley, Alberta.
Buddy grew up with Nakoda traditions that were passed on to him from his parents and grandparents. His great grandfather was Chief Peter Wesley who established the Big Horn reserve and his great grandmother, Leah Simeon, was an entrepreneur and traded handi-crafts with Norman Luxton in Banff. Buddy gained historical Nakoda knowledge through the Treaty Land Entitlement research department since 1990 and with constant discussions and interviews with Stoney Nakoda Elders through traditional Oral History. He prefers to be known as Buddy and in addition to teaching Stoney Culture and Language, he is an accomplished guitarist and studied classical guitar at the University of Calgary and currently plays in Cochrane-based band Highway 22.
"I was born and raised on the Stoney Indian Reservation in Morley, Alberta, on February 27, 1950, to parents from the Stoney Nakoda tribe. My dad was from Stoney Nakoda Wesley First Nation from Big Horn, my mom was from Chiniki Band First Nations, Morley, Alberta and the family transferred to Chiniki band at the time of their marriage.
My great grandfather, Peter Wesley, was a Chief from the late 1800's to 1935, until he died at the age of 95 years old. Chief Wesley refused to be counted into the Treaty system; he was a rebel; a warrior messenger (a messenger to the Chiefs and members at the time of the signing of Treaty 7 for the Stoney tribe). He created a ranch for the Wesley band, bought cattle, his original land is from Big Horn reserve (west of Rocky Mountain House), AND he was the Chief who initiated the establishment of the Big Horn reserve (a satellite reserve of Morley). He was a brave man who got along with grizzly bears. His wife Sarah died in the early 1900's.
My great grandmother was Leah Simeon (mother's side). She was born in the late 1800's and decided to be educated, this was rare for women at this time. She became a business entrepreneur and traded her handicrafts with the settlers. She worked closely with Norman Luxton from the Luxton Museum.
I started to work for my tribe in 1971, operating in different departments such as in the sawmill, Wilderness Centre guide, and Star (Stoney Tribal Agricultural Program) Ranch. This ranch was initiated by the Chiniki Band, it was a cattle ranch that also had farming equipment, where I learned how to use big farm machines. The last department I was active in was during 1991, when I worked for the Research and Land Claims Department, and I am now the active Cultural Advisor and Tribal Historian for my tribe. I have studied and researched the history of my tribe, and have gained numerous accounts of oral history from my Elders. I have worked with Dakoda / Lakoda / Nakoda language groups from Saskatchewan, Montana and Alberta over the last 20 years.
I am a damn good guitarist. At the age of thirteen I began to teach myself music. In my early 20's I was invited by Johnny Cash and Waylon Jennings to be a touring member of their band, guitarist, while performing at the Calgary Stampede (our band was called The Red Clouds with partner Sykes Powderface on lead vocals). I studied Classical guitar in 2002 at the University of Calgary [with Professor Jacob Solomans for Classical Guitar studies] and learned to read music.
I like to create and collaborate with Jason Botkin with art and my music. I would like to interpret my feelings through my guitar playing and interpret Jason's artwork through music."