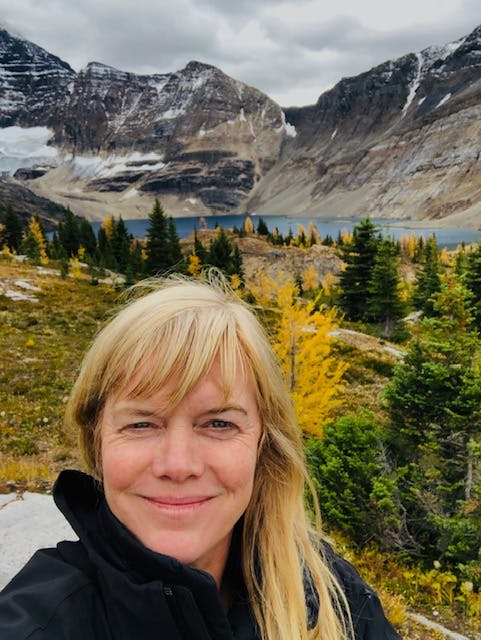 Born and raised in Montreal, Adrienne graduated from McGill University in 1991 (Occupational Therapy) and moved to Alberta in 1992 after working for several summers at Camp Horizon in Kananaskis Country.
While living in Calgary for 8 years, Adrienne specialized in brain injury rehabilitation, which fostered a life-long exploration of the impact of brain development on learning and growth. For the past 20 years, Adrienne has lived in Canmore, raising her two children alongside her husband, partnering with families, and health and education professionals in the Bow Valley. While working on multiple inter-disciplinary teams within Alberta Health Services (AHS) and other non-profit agencies, Adrienne maintained a commitment to a wholistic, FAMILY-centered and strength-based approach in her professional work. She has woven additional training and education in the expressive arts and GROOVE movement into her professional work and personal life, recognizing the importance of creative expression for overall wellness.
Most recently, Adrienne initiated a program titled "Inner Cool Kids" within Canadian Rockies Public Schools (CRPS) and co-founded "Roots and Wings" early learning program, combining her passion for children with her love of our unique natural environment through outdoor exploration, art, movement, music, sensory experiences and social-emotional literacy. With support from community partners, Adrienne launched "Crafting Calm During COVID and Beyond" at artsPlace in fall-winter 2020, inviting children and their caregivers to explore mindfulness, nature, music/movement and visual art experiences to promote connection and well-being in the home.