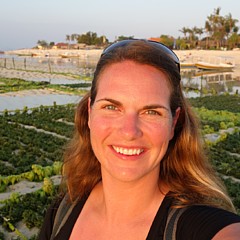 Artist Biography
I live, work, play, and create in Canmore, Alberta surrounded by nature's purple skies, blushing mountains, crowding elk, soaring ravens, chattering squirrels, and an abundance of "wild and precious" souls. I am deeply moved and inspired by nature and I aspire to create artwork that resonates with others who also love nature and all wildlife.
As an avid hiker, backcountry camper, skier, traveler, and scuba diver; I love nothing more than to be completely and totally immersed in nature. My favorite subjects are the wonderful creatures I have met and shared moments with on land and in the ocean. I want to share the sense of wonder, expansive joy, and honour that I feel when I chance upon wildlife in their habitat where I am the guest. I also have a soft spot for whimsy and at times infuse humour and individuality in my subjects…an otter eating charcuterie for example!
My preferred medium is watercolour although I dabble with ink, acrylic, and ink pen and am always game to try something new! I am a Geologist by training and profession, but I have always been an artist at heart. I have no formal art training but I re-introduced myself to painting in March 2020 when the COVID 19 Pandemic allowed me to spend more time in nature and pursuing my creative passions.
Rainbow Ravens 3